Axel Cruysberghs wins Damn Am Costa Mesa
Read More
Thrasher's recap of Phoenix Am 2014
Read More
Young gun Shay Sandiford from Vancouver just came out with a new video part. Check it
Read More
The Asphalt Yacht Club welcomes Jaws to their team with this clip of a massive heelflip.
Read More
In a classic "Stop the car!" moment, Rhino spotted it but it was up to Aaron "Jaws" Homoki to make this psycho dump-truck drop a reality. Photo: Rhino
Read More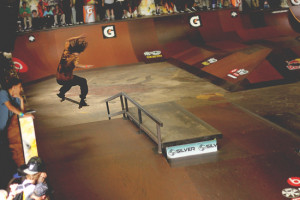 Tampa Pro is now over and was as crazy ever! Ben Raybourn, Felipe Gustavo, Kevin Romar and Evan Smith made it to the Finals. We are proud of all our dudes ripping this weekend and can't wait for the next Tampa Pro.
Read More
Hosted by the Skatepark of Tampa, the Tampa Pro contest will celebrate its 20th birthday in 2014. The elite contest has some of the world's best street skaters competing with each other on an anually re-designed course.
Read More