Ben Raybourn is the latest addition to the Nike SB Team
Read More
David Gravette gets five tricks down a handrail while The Illusion asks him some questions.
Read More
Drinking Piss, Shitting and More on Free Lunch (Part 1 of 2)
Read More
BONES WHEELS Welcomes Marek Zaprazny to the Team.
Read More
In this week's Mag Minute, young-blood Kevin Scott brings some new life to a few LA skate spots in tasteful fashion.
Read More
The Brazil to Barcelona transplant, with ties to SoCal, shows up on our radar. - TransworldSkate
Read More
Paul Hart and Matt Berger ended up killing their jams today! Matt taking 1st in qualifying and 1st for "Best Trick" with a Front-blunt Bigflip! Paul Hart qualyfied 6th overall, also had an awesome pong game for locals to win some wheels and glasses at the BONES booth. Following these photos is a brief run down of how BONES does it out here in Tampa, FL.
Read More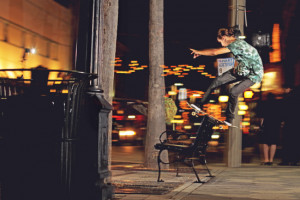 Our first day out here in Tampa, Florida came out to be a quite succesful day. Trent McClung, Paul Hart, and Dylan Perry were able to practice at "SKATEPARK OF TAMPA" and squeezed in acouple street spots as well. Be on the lookout for our daily blogs on what's going on with the BONES crew out here in Tampa!
Read More
Canadians aren't exactly known for their baking skills, but Decenzo cooks up a tasty assortment of bangers down the 10 rail. Why settle for a dozen when you can have a bakers dozen?
Read More
"TJ Rogers has been on an absolute tear lately! Aside from this video you're about to watch, TJ just release an insane Blind video part and is also working on an interview in the mag and almost has enough footage for another video part... This dude is HUNGRY!"
Read More